Home

/

Sparco Circuit II QRT Seat Bundle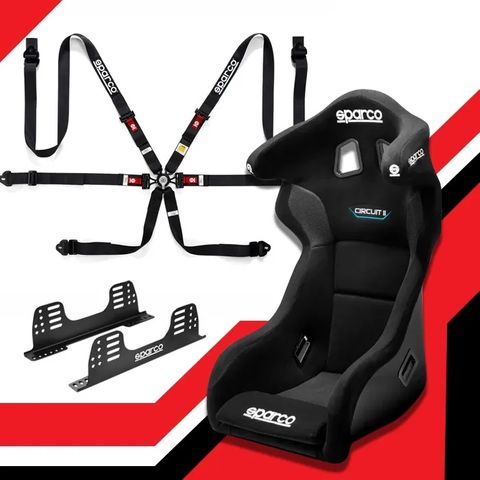 Sparco Circuit II QRT Seat Bundle
Stock Level
IN STOCK ORDER NOW FOR IMMEDIATE DESPATCH
IN STOCK ORDER NOW FOR IMMEDIATE DESPATCH
OUT OF STOCK – BACKORDER NOW
OUT OF STOCK – BACKORDER NOW
Price:
$1,719.00(inc gst)
Price:
$1,719.00(inc gst)
Price:
$1,719.00(inc gst)
Description
Firstly please choose which harness colour you want from the drop down menu above.
The pack consists of the follow below;
FIA 8855-1999 approved
3.5kg Lighter then previous model
Standard or large sizes
The Circuit II competition seats are built using Sparco's QRT (Quick Resin Technology) process which has helped to reduce the weight by 3.85kg over previous Circuit models. Head protection is integrated for increased safety in lateral impacts.
QRT manufacturing process for a much lighter seat with no compromise on safety or rigidity
Built in head protection for vastly improved safety in side impacts
Non slip material in strategic areas reduce body movement for better comfort and safety
Available in standard size (Circuit) and large size (Circuit II) to accommodate a wider range of drivers
This latest version of the Circuit and Circuit II offer a 30% weight saving over the previous model whilst still remaining rigid and strong. This is due to the revolutionary QRT manufacturing process which allows a seat to be at carbon fibre weight but at fibreglass money. Non slip fabric is used on the base cushion and on the shoulders to increase body retention and a low profile, single piece cushion provides increased safety by keeping the legs inside the seat shell.
FIA 8855-1999 Approved
Sparco Endurance Harness;
The Sparco Endurance 6 point FHR Harness is a professional 6 point saloon harness which features 2" wide webbing used for both the lap and shoulder straps for a more precise fit with a FHR / HANS device. The lap belts have pull down adjusters that are favoured for multi-driver disciplines where easy adjustment can be made by the driver.
Lightweight steel quick release adjusters
2" Shoulder strap width for a better fit on FHR / HANS devices
Snap hook fittings on both the shoulder and lap belts
Fitted with an ultralight high load buckle that secures all the straps via the T-bar style crutch strap. This harness is a FHR specific professional saloon/GT harness with lightweight adjusters that provide easy adjustment making it ideal for endurance racing where quick driver changes are needed.
FIA 8853-2016 approved for use only with an FHR / HANS device
Sparco Steel Brackets
These Sparco steel side mounts are longer in length than the standard Sparco mounts (460mm long) and are multi drilled to provide lots of scope for adjustment allowing you to position your seat in the most suitable position. They are made from high resistant extremely strong 3mm thick steel and are suitable for side mounted seats such as Sparco, OMP, Cobra, Sabelt, or any other brand with a bolt hole spacing of 290mm.
A large range of mounting holes to get that perfect seating position (460mm long)
Longer than standard Sparco seat side mounts
Fits side mount seats with a bolt spacing of 290mm
Black powder coated corrosion resistant finish to maintain a professional finish
FIA Compliant
NOTE 1: Due to the weight and dimensions of this seat, we reserve the right to recalculate the shipping cost once your order has been placed. We will contact you with any increase in shipping charges.